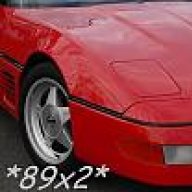 Joined

Feb 18, 2002
Messages

10,357
Location
Pretty cool :cool ...and informative

http://www.callawaycars.com/callaway/main/contentpages/projects/template_000.htm
Callaway Frequently Asked Questions

​

What is the difference between a Callaway Factory Installation and a kit installation in the field?​

The supercharger system components in the kit are the same as the Callaway installations. The Callaway Corvettes are done by skilled technicians at the Callaway Factories. Their expertise is honed after performing literally hundreds of installations on Corvettes, day in and day out. Perhaps the biggest benefit is that when the installation is complete, we drive the car to assess everything from driveability to consistency. We know what the car is supposed to do. We know when it's right, or when it is out of spec. We know how to listen for knock, and make individual adjustments for a given condition. When we hand the car over to the owner, we know it is right. Mechanically and cosmetically.​

Can I install the kit?

Of course. The kit is designed for field installation in approximately 14 hours. Allow extra time if you are doing a new inlet and exhaust system as well. We have a network of

Magna Charger Authorized Installers

. The difference is that official, documented, Callaway Corvettes are built only in Callaway facilities. Chevrolet Dealers and Corvette Specialist shops do not build Callaway Corvettes. That is not to say that kit installations in the field are somehow second rate... they just have not been through our process. Many car owners choose to do their installation locally and are very happy with the results. Callaway supports kit installations with technical and online help.​

Where can I buy the Callaway Magna Charger kit?

You can buy the kit from any of the authorized Callaway Magna Charger Dealers or directly from Callaway. Callaway is the exclusive worldwide distributor of the Eaton/Magnuson Supercharger System for Corvette. All Corvette supercharger kits that use the Eaton/Magnuson Supercharger come to market through Callaway in any case.​

Why is there a price difference between the Magna Charger Kit and the Callaway Corvette installation?​

The Magna Charger Kit price for 2008 Corvettes is $7395, silver ($8495, polished). Your local Magna Charger installer can supply a quote for the complete job, including installation.

When a Corvette becomes a Callaway Corvette (package price $18,500 on an '08 Corvette), we also install the best engineered components including:

<LI class=style6>CS2000/MP122 Supercharger System ($8495, all Callaway installations use the polished housing option) <LI class=style6>Honker Air Induction System ($495) <LI class=style6>The Double-D Stainless Exhaust System ($1095) <LI class=style6>Callaway C16 Hood ($1395) <LI class=style6>First-Class Paint. Body color blend-matched to fenders. Silver bulge. ($1400) <LI class=style13>Body-Color Injector Covers <LI class=style13>Threshold Plates <LI class=style13>VIN Dash Plaque <LI class=style13>Callaway Corvette Documentation Package
Installation Labor

We also complete the process by adding the small touches that bring value and coordination to the car. The three biggest value factors are:

<LI class=style6>Warranty - 3 year/36,000 mile powertrain <LI class=style6>Documentation - Official Callaway Corvette Documentation Package. We document the car as a member of the official Callaway Corvette production. The documentation folder is presented to the owner with signed certificates of authenticity, keyed to the VIN. In addition, we include a VIN based dash plaque, a beautiful set of threshold plates, Callaway floor mats, and discrete badging for the rocker panels and the rear fascia.
Resale Value - Callaway Corvettes traditionally hold the highest resale value of any specialist Corvette. The 2007 and 2008 Callaway Corvettes are now listed in the NADA Classic, Collectible, and Special Interest Appraisal Guide, joining the 1987-1991 Callaway Twin Turbo Corvettes.

Can I delete the Callaway badges?

Yes. You can 'Option Delete' trim and certain accessories. However, there is no price reduction. Our production and pricing is planned around a certain volume. The Callaway Corvette is engineered with components that work together; we do not modify the specification for individual cars. And badges and identifiers are not supplied separately. This helps defeat counterfeiting.​

Can I use my own exhaust system?

The major Callaway mechanical components cannot be substituted. We can use only Callaway Honker Air Induction System and Double-D Exhaust (see the optional Slats version) The packages are tested and certified in this configuration. Additionally, these components are the only ones that will produce the stated power. And the engine calibration is specifically for the complete Callaway system. Our stated power numbers apply only to installations that use the Callaway components.​

Can I get my stock parts back?

If you wish to retain your OE take off parts there is a charge of $1200, plus shipping. Why? We have priced the conversion to include the value we recover from selling the stock parts.​

Where can I buy a Callaway Corvette?

Callaway Cars Inc. is establishing Callaway Corvette Dealers in twenty of the most active market regions in the USA and Europe. Please refer to our

Callaway Corvette Dealer list

.

No dealer in your area? Call us at 860 434 9002 and speak to a Callaway Corvette Specialist. We can procure new cars on your behalf. You may take new car delivery at either Callaway Factory, or we will arrange transport.​

What if I already have a new Corvette?
If you already have a new, or almost new Corvette, you are welcome to submit the car for conversion. Call us at 860 434 9002 for scheduling.​

I am planning to buy a new Corvette. How do I make it a Callaway Corvette?
Very easily. When you order your new car, have your dealer specify the Callaway drop ship code. Call Callaway Cars for the appropriate code. Your new Corvette will be built at the Bowling Green KY assembly plant and shipped on a GM transporter to Callaway Cars. On completion, we can arrange transport (price on request) or you may elect to do a Callaway Factory Delivery.​

Do I have to ship my car to California or Connecticut?​


Official Callaway Corvettes are built in Old Lyme Connecticut and Orange County California. These new cars are shipped to Callaway Chevrolet Dealers (20) nationwide for sale. In addition, currently-owned cars can be shipped to either Callaway facility for conversion. We have transport arrangements made through Plycon Transportation, as their owners are also Callaway owners. Many owners choose to pick up their newly converted cars at either factory and make the exciting drive home.​

Do I have to use your hood?​


If you want a Callaway Corvette, you have to use the Callaway hood. Frankly, it is the only one we have found to be OE quality and look correct. Ten years from now, you'll agree. Seriously, this is the best looking and highest quality solution. Some folks, initially, have said they want a different solution. Then they come to the factory and see the look and quality in person. No one to date is sorry they have taken our advice. Come see for yourself, please.​

What are my choices for the hood bulge color?​


The hood bulge needs to be a contrasting color. Zambezi Silver and Charcoal Metallic are the two colors that we use, depending on the base car color. We use the brighter silver on the darker cars and the darker charcoal on the lighter cars. We have experimented with one-color-hoods, and we rejected the look. Please look at the photos of example cars throughout the website.​

How do folks like their Callaway Corvettes?

Please see

the testimonials page

. We think you will get the message, especially with comments like, "Best money I ever spent..." and many other truly heartwarming comments.​