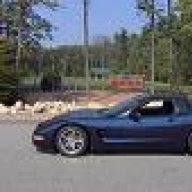 Joined

Jul 20, 2005
Messages

107
Location
Corvette

2000 Navy targa
Need advice on Radiator drain plug locking
I have had a leak in my drain petcock of the radiator for about a week. I had put in the Dorman wing-nut drain plug years ago without problem. A year ago I did a water pump replacement, and in so doing drained coolant out of the petcock. Not until this winter has there been an issue. in the last week there have been coolant puddles under the drain of the radiator.
I bought a new Dorman plug today, in the hopes that a new one with a good O ring might seal the leak. All my research on line says turn 1/4 turn clockwise to close it, which I'm not quite able to do, it stops at maybe 85 out of 90 degrees. I've put quite a lot of force on it with fingers only, for fear that I may crack the radiator neck. Is there supposed to be a click or notch of resistance at the end of the turn to lock the plug in place? The metal pin and the wing nut tab is on the same axis, so should the handle tabs be straight up and down when properly in place? A full 90 degree twist would mean that the pin would be straight down.


Over night, the dripping did stop with the new plug in. However, the plug is not firmly in place, as it can be easily moved with a small push with one finger. This would be easily shaken out of place with a bump in the road.
Thanks for your expertise on this.

Best,

Bluemill
Last edited: