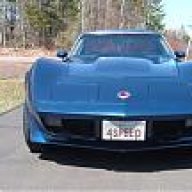 Joined

Sep 13, 2005
Messages

307
Location
Corvette

1974 Metalic Blue L-48 Coupe 4 speed
Hi C1 owners,
I'm in charge to have a Banner created for our Corvette Club. The Club Members voted for a 1956 to 1961 Red Corvette with a white cove to be on the Banner. When I went to the Print shop to have it created. they said I would need a bigger and better quality picture because the banner is so big that the picture would not look right if we don't start with a big picture.
So I wonder if you guy's have or can take pictures of the side/front of your car (if you have a 1956 to 1961 red corvette with white cove) Prefer to have a picture with no other car in the background. A nice nature sceen behind the car would be perfect. I would need the biggest resolution possible. That means push your digital camera to the max resolution possible.
of course if you are willing to help me, I still need your authorization to put your car on our banner. Of course we wouldn't add your car on our banner without authorization from the owner.
here's an example of the banner in question. The picture on the banner is one that i've found on the internet. It won't be used because it's too small to begin with. let me know if you can help. This banner will follow us whenever we go to a car show to acknowledge the club's presence.