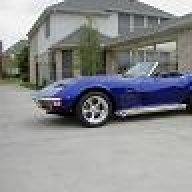 Joined

Nov 21, 2003
Messages

276
Location
Corvette

71 Kandy Burple Conv / 02 MY Z06
With all my crate motor woes I've gone round and round getting things fixed. I have some semi-professional help coming to the house potentially this weekend. He's got an 8 second Nova and is supposed to be a real wizard so I've got my fingers crossed.

The reason for the post is to ask about something I noticed when I was setting my valve lash that I've never seen before.

On a few, not all, pushrods I noticed that about 3/4 of an inch down from the top there is a small hole. I thought this was strange and that the only holes in pushrods were at the ends for the oil to run up into the valve train through. I thought perhaps the holes I noticed were meant to spray a little oil around the springs. I can't remember which valves specifically they were on but I recall that they were on a few of the valves toward the front of the motor. The holes don't appear to be due to any kind of wear. They are clean round holes.

Has anyone ever heard of this or seen this on a pushrod? Could this be why I'm getting noise even though I've set the lash twice? The mechanical wizard I spoke to today had never heard of this but couldn't say for sure that they weren't supposed to be that way. This is the first motor I've opened up in over 20 years so I wouldn't be surprised if you told me this was normal.

I didn't think to take a picture at the time because my hands were covered in oil and I was more focused on getting the lash right. I'm going to pull the covers and review the lash again this weekend. I'll post pics of what's in there then.