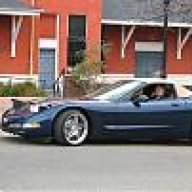 Joined

Jan 9, 2007
Messages

44
Location
Corvette

2000 Navy Blue Convertible
...there are no sensors in there? Now, how can that be?
I have a Y2K A4 vert with non-fun flat, after market tires on CCW 505 wheels. Because there are no sensors in the wheels, the DIC always shows lack of signal when I first start up. I merely clear this and set DIC to show water temp. I like to keep and eye on that and oil temp. Well, last week it suddenly started switching from temp to "low tire pressure on left" or something like that. It was so convincing, I checked the tire to see??? What tha...??:W Tire looks fine to me. But, it has me worried...
hnoes
A member of another forum said to see if my original wheels/tires were causing the problem by being too near the car in the garage. Seems reasonable and I will check it tonight. In the meantime, just wondering if anyone had ever heard of DIC message coming back once cleared...for tire pressure on only one tire?:ugh I guess I am asking all those running without tire sensors..??
UPDATED INFO. Drove car 20 miles away last night and DIC still says my left rear tire has 22 lbs? W/O sensors, I still have no idea why it is telling me that? Once the message appears, it is hard to clear, too. Anyway, the message is clearly not caused by close proximity to the original wheels with sensors located in my garage. I'll try the TPS re-learn approach tonight and post an update. Maybe that will cure it?
UPDATE #2 Car healed itself! Praise be to the Corvette Gods of Wonderment! Drove it over the weekend and my LR tire must have aired itself up because I no longer get that annoying message? Drove it in to work today...no message. Gremlins?
LT