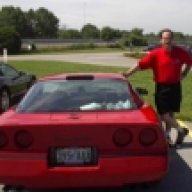 Joined

Oct 30, 2001
Messages

2,273
Location
Corvette

1986 Bright Red Coupe
I've put about 200 miles on the Vette since getting it back last week, including some higher RPMs. Noticed something that might be a problem...

Sometimes (but not all the time - maybe 50% of the time) when the engine is above 4-4.5k RPMs I hear a distinctive rattle from it. Sounds like when I was having problems with my old turbo car and it was pinging under boost. I feel no appreciable loss of power, like I did then, but the noise is a bit worrisome. The engine is fairly high-mileage (132k mi) and I'll be doing some work on it this winter but wasn't planning on tearing it down yet (just plugs/wires/distributor-sort of stuff).

Anyone have any thoughts on this? Compression is supposedly OK (tested by mechanic before purchase) and it's not really burning oil.

Thanks...