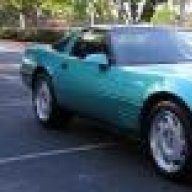 Joined

May 18, 2003
Messages

312
Location
Corvette

1991 Turquoise Metallic Coupe
There is a strange rattling noise inside the engine compartment of my Corvette that is present only when the engine warms up, it is at idle and in gear. It sounds like it's coming from the right side of the engine compartment. I tried tracking it down by popping the hood, letting the engine warm up, then letting my wife put the car in gear. Unfortunately, it doesn't happen when I do that. :confused

It is not overly loud but loud enough to hear from the drivers side or when you are standing next to the car.

The strange thing is, I have a 2001 Saturn L300 with the V6 and automatic and that car also makes a similar sound after the engine warms up and the car is in gear.

I'm racking my brain trying to figure out what it is and how I can silence it because the car is otherwise running like a top, which makes the rattling sound that much more annoying.

Anybody have similar issues? Any ideas anyone?