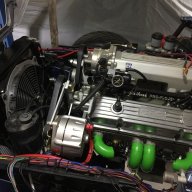 Joined

Dec 19, 2010
Messages

189
Location
Corvette

1984 Two-tone Blue Coupe
Hi guys,
I managed to pick an 84 Coupe up on eBay here in Australia as a parts car...I know parting out a Corvette to me is something I am not comfortable with, but this car has had a hard life and I have already thanked it for its sacrifice of providing my 84 Two-tone Blue Coupe with spare parts.

The original TBI engine and auto trans have long gone and someone put an LS1 at one stage, I got it without the engine and trans. It has the diff, a DANA 36, my blue coupe is a manual 4+3, but the diff is the same HE3.I checked all the RPO codes on the parts coupe, nah she wasn't anything special.
You our can tell the difference between my blue coupe and the parts coupe, my blue coupe was imported into Australia in 1995 and converted to right hand drive (required for vehicles 30 years old and less). As it was a special vehicle for the original importer, it has always been looked after.
Question is I want to remove the rear hatch glass on the parts coupe but the wiring harness has been butchered, so hooking a battery up to pop the hatch isn't an option.
Can you release the latch manually?
I had a look in the factory manual, but I can't see anything in there for it...unless I missed it.
Any thought on how to pop the hatch without breaking the latch?
thanks Tony