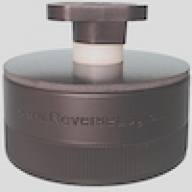 Joined

Feb 28, 2015
Messages

57
Location
Reverse Logic has earned a reputation for making quality jack pad tools for a wide range of vehicle chassis. We entered the overcrowded Corvette jacking puck market in 2012. While the dimensions of the Reverse Logic jack pad are close to other available tools, the similarity ends there.
The tool consists of five components. A Delrin puck that is about 1 1/8" thick and 2 1/2" in diameter, a threaded T-nut with a "diamond" shaped shaft, an M8x1.25 bolt, a Neoprene washer, and a Nylon spacer.
The hole in the center of the puck is counter bored and threaded so that the bolt does not spin after being installed into the puck. The shape of the shaft on the T-nut is what really distinguishes this tool from competing products. The built-in stops on the shaft of the T-nut only allow the tool to be turned 90˚ after the tool is inserted into the oval-shaped hole in the chassis.
The tool can be used in two modes. When the Nylon spacer is installed between the puck and the T-nut, the jack pad can be used in the conventional manner where it simply hangs from the chassis. In this mode all five of the tool components would be used.
Although this tool is not intended to be permanently installed, it can be temporarily secured in place when you are doing maintenance for an extended period or taking a quick trip to the tire shop or service garage. In this mode, the spacer is removed and the T-nut is re-installed until there is about 1/8" to 3/16" space between the T-nut and the washer. The tool is then inserted into the chassis jack point and the puck is turned clockwise a couple of turns until the tool is snugged up against the chassis. The washer prevents the tool from scraping against the chassis when twisting the puck to secure it in place.
Another advantage of this tool design is that it can be easily adjusted to accommodate minor changes that GM makes to the chassis over the model life of a particular generation of vehicle or even from one generation to the next.
An optional 15mm tall extension is available for cars with lower side skirts.
Reverse Logic Jacking Puck for C5/C6/C7