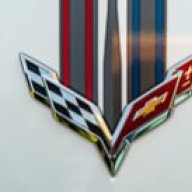 Joined

Aug 29, 2001
Messages

3,237
Location
Corvette

2017 Arctic White Grand Sport
Rustproofing and POR-15
I've gotten my new rear shocks and camber strut rods in, well with the exception of that one castle bolt I have to find. Not only are the different diameters and thread configurations, some are taller than the others. The one I was able to locate on a Sunday is slightly taller and I couldn't get the cotter pin in the hole.
While I had the left rear wheel off, I did the POR-15 thing on the outside, top and bottom of the frame that I could reach.
http://home.attbi.com/~jchadwick/rear_suspension.htm
1st Question: It's apparent that I am not going to be able to get into every nook and cranny with a paint brush. I was thinking of taking Rustoleum and spraying into those areas. What do you guys think, or does someone have a better idea.
2nd Question: POR-15 needs a top coat. I was thinking of spraying over it and other parts under my car with undercoating. In fact, you can see in one of the pictures where I have sprayed undercoating on the underside of the wheel well.
Bob