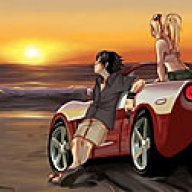 Site Administrator
Staff member
Administrator
Joined

Sep 16, 2000
Messages

13,854
Location
Corvette

1990 Corvette ZR-1
Changes - They Are a Comin': Irony in a Time of Uncertainty
by Rob Loszewski
Friday, September 19, 2008
©2008 Rob Loszewski, Corvette Action Center
No use without permission
[SIZE=+3]
I
[/SIZE]t's been a year since I actually took the time to sit down and write a Wheelspin column. After the events that have taken place with the economy over the last several months, and most certainly this week, I felt compelled to sit down and put some thoughts or concerns on to a computer screen.
I usually don't pay as close attention as I should to the economy, but with the recent headlines all over the media, how could I not?
The stock market has tanked big time this week and markets around the globe have taken a hit.
GM announced that the Bowling Green Assembly Plant would be shut down for one week in October and production scaled back from 18.5 units to 15 units per day. If I'm not mistaken, I believe that we haven't seen a reduction in Corvette production since 1987.
A month or so ago, GM's stock hit an all-time low and Detroit's Big-3 are sweating big-time as they scramble to scale back production to reduce immovable inventory, close inefficient manufacturing plants and offer early retirement and buyout plans to minimize debt.
Some of the headlines in the September 1st edition of Automotive News pretty much depict the current state of the American automotive industry and the U.S. economy in general:
"Auto ad spending plummets"
"American Axle to grow outside U.S.
"Salaried workers face the ax"
"Toyota cuts sales forecast"
"BMW slashes production of big engines"
"Chrysler: Viper lures suitors"
The second and third headlines are most interesting - "American Axle to grow outside U.S." and "Salaried workers face the ax" is no surprise. The American workforce has been diminishing for quite a while now as companies move hard labor and production-based labor to foreign countries for much less salaries.
The last two are even more interesting.
BMW is not only planning on killing their V12 and V10 engines because demand has steadily declined, but the article goes on to state that "six-cylinder assembly will be phased out in Munich and replaced by four-cylinder output beginning in 2011. This really saddens me. BMW's inline 6-cyliner is one of the most silky smooth 6-cylinder engines out there and has been praised by the automotive world for years.
GM is accepting offers to sell off its Hummer division, and it appears that Chrysler is entertaining offers to sell off its Viper sports car business.
While Corvette fanatics tend to look negatively upon the Viper, and the Viper does have its drawbacks and inadequacies, it does have its strong points and it was excellent competition for the Corvette. Take a look at the great strides the Corvette has made over the last decade in terms of quality and performance. One has to wonder if those strides would have been made if the Viper was not forever nipping at the Corvette's heels.
As we scan the daily newspaper we see more and more headlines talking about global warming, changing climates, a growing green movement, emissions, hybrids, alternative fuels, bad mortgages, savings and loans, etc. Combine this with everything that's been happening in the economy and you can't help but take a step back thinking "Good Lord, what the hell is going on"?
Now I normally don't like to get into political discussions because I find politics to be full of opinion, speculation, inaccuracies and deceit, I can't help but think that we have an absolute MORON and a MORONIC administration leading this country and it's those morons that are directly responsible for a lot of the BS that we're experiencing right now.
Osama Bin Laden and Al Qaeda have worked very hard to negatively affect the U.S. economy and I'd say they've done one hell of a good job. While on the subject of Osama, we've spent billions, possibly trillions of dollars on the Iraq war, and yet, on the news this week, it was pointed out that we can't confirm the existence of Bin Laden to this day. U.S. intelligence is unsure if he's alive or dead, and if he is still alive, he's teetering in the mountains between the Afghanistan and Pakistan border. Yet, the bulk of our forces are in Iraq. When asked to explain this military positioning, Bush merely states that the amount of Al Qaeda in Iraq warranted the buildup of our troops. Yet the man directly responsible for masterminding and initiating 9/11 continues to roam free; at least to the best of our knowledge.
With the government vowing to bail out AIG, Fannie Mae and Freddie Mac to the tune of trillions of dollars....what exactly will happen to the state of the economy and the U.S. automotive industry? It's anyone's guess. The state of uncertainty is most alarming.
The ironic part of this is that GM just released the most expensive and most powerful Corvette ever built and just recently, GM celebrated its 100 year anniversary. What a way to celebrate 100 years.
The horsepower wars that have been going on for years now along with the resurrection of some of Detroit's muscle cars such as the Dodge Charger, Dodge Challenger and Chevy Camaro (not to mention the 2009 Corvette ZR1) gave hope and excitement to automotive enthusiasts around the globe.
Combine the ever growing inventory of cars on both dealer lots and automotive production plants, the current state of the economy, the housing market, oil prices and headlines mentioning the demise of the V6, V10, and V12 engines along with the possible sale of the Dodge Viper and, that excitement and enthusiasm has been all but destroyed.
However, hopefully all is not lost. We've been through some dark times before. Take a look at what happened to the Corvette after 1969.
Horsepower started to decrease while cubic inches increased. Then all of a sudden cubic inches took a nosedive and performance right along with them. Then we had the fuel crisis of the seventies and around 1980, the Corvette saw its lowest horsepower rating ever; just under 190hp. However, once technology started to catch up, and we saw the increase in fuel injection and computing power, horsepower and performance began to increase once again.
While we may be seeing the swan song of automotive high performance in light of the 2009 ZR1, hopefully the Corvette will continue to march on, tried and true through an economy of gloom, doom and uncertainty, just as it always has.
Tomorrow, I'm pulling my own ZR-1 out of the garage. With a fresh tank of gasoline and not a care in the world, I'm going to enjoy spewing carbon emissions into the atmosphere as I mash the gas pedal, run through the gears, and smile as I hear the roar of the engine and exhaust working their symphonic masterpiece.
Above the ZR-1's own music, Rush's "Red Barchetta" rises above:
My uncle has a country place, that no one knows about
He says it used to be a farm, before the motor law
And on sundays I elude the eyes and hop the turbine freight
To far outside the wire, where my white-haired uncle waits.

Jump to the ground
As the turbo slows to cross the borderline
Run like the wind,
As excitement shivers up and down my spine
Down in his barn
My uncle preserved for me, an old machine ---
For fifty-odd years
To keep it as new has been his dearest dream

I strip away the old debris, that hides a shining car
A brilliant red barchetta, from a better, vanished time
I fire up the willing engine, responding with a roar
Tires spitting gravel, I commit my weekly crime...

Wind in my hair ---
Shifting and drifting ---
Mechanical music ---
Adrenalin surge ---

Well-weathered leather
Hot metal and oil
The scented country air
Sunlight on chrome
The blur of the landscape
Every nerve aware

Suddenly, ahead of me, across the mountainside
A gleaming alloy air-car shoots towards me, two lanes wide
I spin around with shrieking tires, to run the deadly race
Go screaming through the valley as another joins the chase

Drive like the wind
Straining the limits of machine and man
Laughing out loud
With fear and hope, I've got a desperate plan

At the one-lane bridge
I leave the giants stranded
At the riverside
Race back to the farm
To dream with my uncle
At the fireside...
"...motor-law...a brilliant red barchetta from a better vanished time...gleaming alloy-air car..." Years down the road, will the Corvettes we own today be outlawed and turned into preserved relics, only to be replaced by gleaming alloy Chevy Volts that emit a high pitched hum rather than a throaty growl? I'm not really sure as I downshift the ZR-1, punch it and turn up the music. This is what it means to be an automotive enthusiast during a time of economic change and uncertainty.