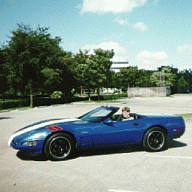 Joined

Apr 16, 2002
Messages

48
Location
Corvette

1996 Grand Sport convertible, 2003 red coupe
I had lunch with former co-workers (I "retired") and across the street was a larger Chevy dealership. So I said, what the heck, and went over for a look. A beautiful electron blue convertible was sitting in the showroom (okay, where's my drool bucket?). I said to the salesman neaby (who was hiding his drooling well
) that I wanted to see a Z06. He said to go upstairs to the garage area where there are several. So up the stairs I went. Oh my gawd! (where's the drool ditch?). So many 'vettes (18 in all) to choose from, all colors, all styles.... *sigh*, I heard my wallet faint with a large thud.
So, now that I'm not going to get the SE 50th 'vette, and the C6 is another 2 years away, I want a manual in both 'vettes (the C5 is auto) .... I want a new one. But I'm in a quandary. I'd really like to get the Z06, but I prefer the coupe styling and the extra carrying space it has (a question for Z06 owners: I just brought home a new PC and the monitor had to be taken out of the box but then could fit in the coupe.. can a large monitor fit in a Z06, besides on the seat?). And the $10G difference does matter since I'm no longer working (I can afford to buy a new 'vette once for the forseeable future).
Then there's the color choice. Torch red or EB? I already have a blue 'vette, but the EB looks really sharp. :confused
How much of a discount do you think I can get for a 2002 model in a few months when the 2003s start showing up? (if the dealer still has them) Will they deal on the previous year's model? By how much? (a recent investment will come back this fall which gives me the money to buy my new 'vette so the timing is good for it).
fyi, I'm trading in the green C5. My garage only has room for 2 cars (+ lawn mower tractor :eyerole).
Glen