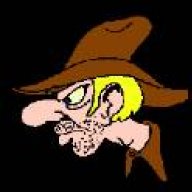 Joined

Apr 17, 2001
Messages

841
Location
-Here's the chassis dyno results!
Car is an automatic 1992 5.7L Camaro. Car is bone stock except cat back.

We added the stealthram and a Holley billet 58mm throttle body. That was the only changes. I don't think the throttle body makes much of a differenece at this power level.

This data is for 3rd gear RWHP on a dynojet.

RPM Stock HP Stealthram HP Diff
3400 190 175 -15
3600 200 188 -12
3800 209 198 -11
4000 210 204 -6
4200 212 210 -2
4400 213 223 +10
4600 214 234 +20
4800 210 240 +30
5000 198 239 +41
5100 184 238 +54
5200 174 237 +63

I was honestly suprised at how much more HP it made.

If you have a bone stock car and like to shift at 4000 and enjoy torque at 1300 RPM, DON'T get this intake. If you like your HP at 4000 and up, and don't mind some loss below, then .

This was with a STOCK car, add more cam, headers, then you can really make some power.

As for the install, it fit under the hood with NO mods to the intake for clearance. We just removed the hood insulation. It is close, but there is still enough room for engine movement on this car.

For mods, basically you have to cut the stock fuel lines and connect up with -6 lines, lose EGR, Stock coil location is fine, you need some vacuum fittings and vacuum line, basic hardware/autoparts store stuff. The stock air cleaner ducting even lined up. This was a speed density car. I think a mass air would be fine too, but want to see.

I'm going to get the new manifolds machined for the late (center 4 holes) bolt pattern also in the future. These aren't. We used some angled spacers that weiand sells for this car.


-------------------------------------------------------------------------------
Hey guys,
Just wanted to pass some info.
The price at Summit for the lower and upper (unpolished) is 279.99 (7540)
The fuel rail kit which you need is 173.69 from Summit (534-185) Less than $500 total.
The results given are from the chassis dyno. A 1-2-3 gear pull (700R4) was done. The lowest rpm given was from the gear shift on (that is what it dropped to on the shift recovery). The 1st gear numbers were the same as the stock TPI (from a dead roll), but with converter, etc, I question that. If I had a 5 sp car I would pull from 1000 RPM. I posted what we had, not trying to hide anything.
This intake is not designed for someone that shifts at 4000 RPM and likes torque at 1400 RPM. If that is what you want, keep the stock TPI intake as that is what it is designed for.
Hope that helps.

[Modified by Doug Flynn, 10:06 AM 4/20/2002]
__

Doug
1972 388 EFI Nova
flynnsefi
Here's a list of parts we used.
-Used a 85 Camaro Carbureted upper radiator hose (Dayco 71028) (trimmed the ends back)
- Use a std. small block Chevy waterneck (Mr. Gasket PN 2661)
-Two 1/4" x 1/8"NPT straight barb fittings (rear of intake, MAP sensor and other items, I run only one line to MAP)
-One 3/8" x 3/8" NPT straight barb fitting (rear of intake other vacuum items)
-One 3/8" x 3/8" NPT 90 deg. barb (goes under plenum, used for brake booster)
- 2 feet 1/4" vacuum hose
- 2 feet 3/8" vacuum hose
- (1) 5/16" compression fitting to -6 male AN
- (1) 3/8" compression fitting to -6 male AN
- (2) 3-1/2 foot -6 line with female hose ends. Goes from inlet and outlet to fuel stock fuel lines which are cut from underneath car, the two compression fittings are installed on the stock fuel line.
- (3) 1/4" vacuum plugs for EGR solenoid and throttle body
- (1) large clamp

All the vacuum ports are machined into the plenum. The current lowers don't have the late style center bolts machined, but I am getting future ones machined correctly to fit both. Can't say when for sure. Used the stock air inlet.

You lose EGR and we didn't hook the coolant to the throttle body. Need to use the small cap GM HEI. Coil mounted with stock bracket in stock location.

Didn't have to modify any wiring.