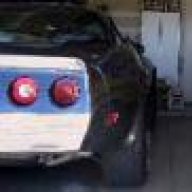 Joined

Apr 29, 2001
Messages

2,141
Location
Corvette

1981 HD Suspension; ZN1 Option
Well people,
Last weekend I took two test drives with the Vette, on two different days (Saturday and Sunday), at two different times of the day, and so I thought that it was Karma that the Vette was really moving like it never did before under L81 power, and the fact that both days seemed like winning examples of the soon-arriving Spring days. This could only be topped by hearing in the radio Styx's tune "Too much time in my hands" both days....and I thought -KARMA!
I am certain that while going at 75 MPH south-bound in I-25, people could hear my screeching (I call it singing)..."too much time in my hands...hmmm ...hummm"
Then while returning home through old Alameda Blvd. in Corrales, someone swung in front of me, and I had to slam the breaks...then it happened...I felt the break pedal give, the Vette did not slow as usual, and the brake warning light came-on. I could have sworn that I had bumped that car...
So now, licking my wounds from the suddenly-deflated sense of exhilaration, I imagined the venerable brake line leak pumping the old and tired fluid all over the rotors, wheels....is that a trail of fluid I see behind me? Better get home.
Fast forward: I raised the Vette on jack-stands, inspected the breaks, Master-Cylinder, proportioning valve. No missing fluid and no leaks! So after researching the CAC, I suppose that my Vette had an un-even pressure on the break lines (possibly caused by the rotor run-out pumping the caliper's pistons).
Tonight, I just finished removing the disc rotors, and the wear measurements indicate that all of my 4 rotors need to be replaced (specially the left-rear which was at 1.205" thickness:ugh :eek ).
So, my second dyno run has to wait until I get the breaks fixed.
Edit: Oops...please substitute breaks for brakes...