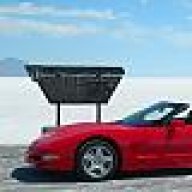 Joined

Jul 20, 2006
Messages

252
Location
Corvette

1998 Torch Red Convertible
Hi Vette Peeps,

I'm a newbie Vette owner with a few questions:
#1. I bought the car last month with 25,000 miles on it ('98 convertible). The tire pressure readout (on the digital display) is always reading "RF tire pressure low, service blah blah" If you hit "reset" and "trip" a few times it will go to the odometer readout but sooner or later (usually sooner) will go back to the low tire pressure display. The tire is NOT low! The dealership has to fix it but since they are not a Chevy dealership they keep passing me along - now they want me to go to the Les Schwab and have them look at it. Can you give me any info to take to them and tell them "I NEED A NEW (insert whatever it is here) SO JUST DO IT."
#2. Unrelated to tire pressure sensors - when backing up (as in , backing up out of a parking space) there is a rubbing/rattling kind of noise. After the first few times I figured out the front end was not going to fall off so I figured it just doesn't like going slow. Should I be more concerned than I am? BTW I have an automatic transmission.
Thanks for all your help - this is the best site I've found in a long time!!! :BOW