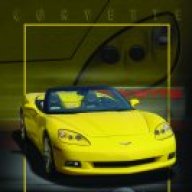 Joined

May 1, 2002
Messages

607
Location
Corvette

'95 LT1 Coupe, Comp Yell; C6 Roadster, Vel Yell
Amazing! Been reading, on this site, about ECM codes setting, and thinking: "Gee, I'm glad I haven't seen one of those nasty-grams yet on my dash." But, NOOOOOOOOO, I think I've joined the party at a measly 17k miles!! Up until this point, I have had no probs other than having to replace intake mani gaskets and seals a few months back (to stop an oil leak). She has been starting and running just great. Fires in first 1/2 - 2 revs consistently.
Last evening I ran over to my daughters house, about 15 miles away. Engine shut down for about 1 hr. It was about 65 degrees F out. When I went to start her, she seemed to cough once and then fired. Would not stay running. Kind of felt flooded. I had to restart her about 5 times. Then she settled down, idled smoothly and ran fine all the way home. No codes set.
This morning I started her right up with no probs and drove to the barber, about 10 miles away. Shutdown was about 1 hr. It was about 60 degrees F out. When I went to fire her up, she coughed once, started and immediately set the Check Engine light. I drove her home in open loop, I imagine. Plenty of power, but hesitation on starting from stop, and my A/C did not work (I think this is normal for a Check Engine condition). Also, idle was a little off. I noticed fans were running when I shut her off in the garage (I think this is normal too for Check Engine condition). Anyway, immediately after shutting her off, I restarted her and she did not hesitate to fire. Also, no Check Engine light. No fans, Idle Fine, A/C okay. Back to normal.
I waited about 40 minutes for things to cool down a bit to see if I could duplicate a hot-start condition. Nothing. Everything fine on startup.
Any ideas. BTW, I know I need to read the code that was set, but to my dismay I have the 16-pin connector. Book says '95 could have the 12-pin or 16-pin and if the 16-pin then I am SOL and must use OBD II, instead of going the 2-pin (A, B) shorting routine). Is this true? I think I remember reading some post about being able to ground out 2 pins on the '95 16-pin connector, like 12-pin, without having to go the OBD II route. Can someone verify this?
If I must use OBD II, my next door neighbor works for GM and has access to one, but he's away for a week. Any help, anyone, in the meantime?
:confused

ad :cool