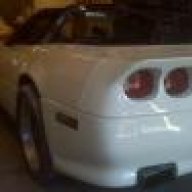 Joined

May 9, 2002
Messages

2,943
Location
Corvette

1984 White Z-51/ZF6-40/Shinoda body
Zero fuel pressure - fixed
Finally; the engine all ready to fire. It rotated well and acted like it wished to run... no start.. CRAP! Someone is getting weary of this project, accentuated by the humid heat wave.
The first suspect, after checking the fuse, is the relay, having caused recurring problems. Consulting my self-colored, well-worn wiring diagram, I suspect the hot lead
orange
, or hopefully not, the ECM. A spare relay, that checked operable, proved no cure. I had been considering changing ALL those relays to solid state, like my fan now uses. There'd been no voltage at the fuse with the key on, but I later discovered there was indeed, w/in the initial 5 second turn-on, i.e. once I moved fast enough.
I applied 12vdc to the left pin of the fuse, and with a quiet garage, heard the pump run but there was zero fuel pressure! Okay, probably a filter; when did I last change it?
Meanwhile, I popped off the intake nozzle, ala 1987, to manually inject some gasoline past the TB butterflies. Crank; FIRE, for a second, as that meager squirt became exhaust noise. Okay half the requirements for a running IC engine are okay: ignition. I'd nailed TDC with the help of a boroscope. It is so cool to watch the valves open and close!
Back to no fuel. Using a troubleshooting technique from my Bell & Howell TV course; half-split the circuit. I removed the steel fuel filter and could easily blow through it.. yummy! Then, using compressed air, the line to the tank seemed good but to the fuel rail, no indication of any pressure. Strange. Only hard line forward, so what could obstruct? Did a steel line get twisted? Nah.
I removed the shraeder valve and applied compressed air both directions, through it and to it. Some fuel exited rearward but nothing moved forward. The local brain trust thinks the flexible portion of the fuel line has deteriorated internally and is acting like a flapper valve; a one-way valve.
I really
hope someone else has seen this and knows a fix
; hopefully not removing all the A/C, hoses, etc. that are in the way.
That, though, is still preferable to (also) removing the SuperRam ..... again!

Yes, Alice, there is plenty of gasoline in the tank.
Last edited: