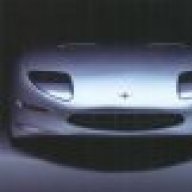 Joined

Aug 2, 2005
Messages

1,767
Location
The rules are, it has to be currently produced. Other than that, it has to be something less than $50,000.
On the this-would-never-happen side of things, I would think it would be cool if Callaway modified a Ginetta G-20. For those that don't know, a Ginetta G-20 is essentially a coachbuilt Miata. I'd say kitcar, but you can't just buy the body and do it yourself, so that's not completely accurate.
I think the car would benefit from some engine work (most only have 136 horsepower). The body is quite nice, but the windshield is kooky and could use a bit of work. It'd be nice if it actually had a trunk too. :ugh
On the other hand, (a more plausible idea) it'd be interesting to see a Callaway version of the Pontiac Solstice. Nice big engine, an aerobody package that gets rid of those silly side mirrors, and you'd have yourself a a real competitor. :cool
What are your ideas guys?