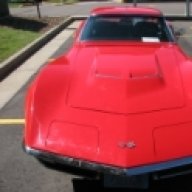 Joined

Aug 12, 2010
Messages

10
Location
Corvette

1971 Coupe (red, LGT-700, 460hp, 510tq)
So, I replaced my 350 with a new 406 this last Spring, however, I never updated my engine data spec place because I could not find a proper solution.
Yes, you can find the 3 sectioned plates that came on 72-76 consoles, but there doesn't exist *yet* the correct 4 section blank plates for the 69-71.

A year or more ago, I tried emailing Trim Parts, who makes the spec plates that all vendors sell, and asking them if this was a possibility. Their short response was basically no. I thought this was very odd seeing as they already produce the 4 section ones, except there must be an added process at the end to stamp them with the engine data. Easy right, just don't do the last F'ing step and you'll have a blank one I can use? Well apparently it's difficult or impossible according to the person who responds to the
Trim Parts
email
sales@trimparts.com
.
So I let it be until yesterday when I was thinking about it again. This time I wrote on their Facebook page and sent another email. However, this time I tried to find the email of the
CEO
of Trim Parts and directly send him a copy of the email as well, bypassing the "Contact Us" contact who likes to say "no". I actually got a favorable response:
Thanks for your email. We will take this under advisement. We actually have a truck on the way to Nevada right now to pick up a 69 Corvette big block project car so your email arrived at an opportune time. The car will be back at Trim Parts this coming weekend and I will ask one of our product guys to get in touch with you to discuss this part.
Thank you for thinking of us.
So if you've ever wanted a blank engine data specification plate for your 69-71, now is the time to let me know so I can pass it back on to Trim Parts to let them know of the demand for this small part.

SL