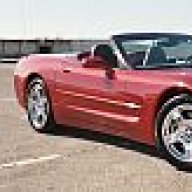 Joined

Jun 23, 2004
Messages

6,662
Location
Corvette

2003 AE Convertible, 1998 LCRM Convertible
Well actually I have been posting on different sites for

the last week or so.....still not receiving the responses

I hoped for. I have over 300 commited Vetters, mostly

European, but I would like to welcome an American

group to have a blast too.!
If you've not posted any more info than that contained in this thread, I'm not surprised you have very few responses.
As I stated previously, post a new thread... perhaps in the Off Road Lounge or the "Europe" section of the Regional Enthusiasts' Forum with who, when and where - even if those items are only in the tentative planning stages - and I'm sure you'll receive more attention.
If you refer to threads pertaining to the Corvette Action Center CruiseFest, you'll see that at the very least, location is announced nearly a year in advance to allow members opportunity to begin making plans.

Jane Ann