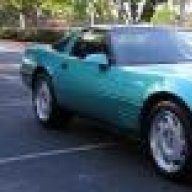 Joined

May 18, 2003
Messages

312
Location
Corvette

1991 Turquoise Metallic Coupe
I saw a major crash the day before Christmas right near my house. I driving my Corvette behind a group of cars and we were approaching an intersection. We were moving at about 50 mph. There was Toyota Camry sitting at the intersection waiting to make a right turn into our direction of travel. The Camry decided to go, probably either distracted or simply too self-absorbed to even think about all the vehicles coming her way. Maybe she had done this kind of thing many times before….who really knows. But the Camry pulled out and she got T-Boned by a Minivan at 50 mph. Minivan didn't even attempt to slow down or brake…probably because its driver was NOT expecting the Camry to pull out. Or maybe the Minivan driver was distracted too. The Camry's driver's side window shattered and its driver's door folded in. The Camry got shoved up onto the sidewalk and the front of the car knocked down the signal control units sitting next to the steel poles holding up the signals. The Camry's front wheel drivetrain folded up on impact and I'm quite sure it was going to need a whole new FWD powertrain from the damage it sustained, if not a total loss. Both the Camry driver and its occupants were clearly shaken and hurt. The Minivan's airbags deployed and its front heavily damaged. Both parties' Christmas were ruined for sure.
In the past few years I have been noticing a disturbing trend around my area. Driver's waiting to make their right turns make the turn whether there are oncoming vehicles or not. This forces oncoming vehicles to slam on their brakes to avoid a collision, causing a dangerous chain reaction. Just prior the above accident, the same exact incident occurred not far from my home. Luckily, the oncoming vehicle had time to swerve to avoid the right turning vehicle! It did cause the oncoming vehicle to cut into my lane, which forced me to slam on my brakes, but there was no collision. All this because some self-absorbed, non-caring individual decided they could not wait an additional 5 seconds to let oncoming traffic go by before making their right turn.
Is 5 – 10 seconds of your time really worth a major collision, and perhaps risking neck and hip injury to yourself and your passengers? Not to mention the expense and inconvenience of having your car fixed, paying for the increase in your insurance premium, any medical bills, plus having to recover from any injury you may sustain! Please ask yourselves this question before you decide to pull out onto oncoming traffic because you feel you can't be inconvenienced by waiting. Please ask this question to your loved ones and friends to remind them that being patient for just a few more seconds can sometimes be the difference between making it safely to your destination or ruining your whole year!