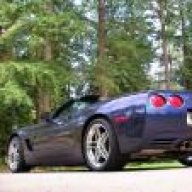 Joined

May 18, 2005
Messages

156
Location
Corvette

Supercharged LS6 6-speed Z06 Roadster
I wrecked my '96 LT4 this weekend and I need some advice. I had added it back on my policy last week, but for some reason the rep misunderstood me and didn't put collision coverage on the car, only liability and comp. I had added two other cars as well, and that was the coverage I wanted for the DD but not for the Corvette. I had just finished paying for this car in May after 6 years, and it was finally all mine until this happened.

It's... well, there's no other way to say this, it's really bad. I spun 180 on an onramp to a 60mph highway and slammed 90 degrees into the jersey barrier, top down (and saving my life, as luck would have it - more on this in a minute). I have no recollection of what happened, next thing I knew I was being lifted out of the car by a bunch of EMTs. But from my own analysis, both from studying the car and the crash site, I believe I was in 4th going for 3rd to accelerate onto the highway, but due to the right turn I missed and hit 1st instead - at about 50mph. Anyone who has been unlucky enough to have done this in a Corvette knows it will fishtail wildly and only a handful of drivers are capable of bringing it under control safely, if at all. It has happened to me once before on a 2-3 shift attempt in a left turn and I was able to recover, but this time apparently I wasn't. Had I had the top up, due to the 90-degree impact, my head would have smashed against either the window or the convertible articulation arms and I would not be here to be telling this story.

So now, I'm in a real mess. I'm physically okay, but the car is in really bad shape. I haven't gotten the estimate back yet, but I suspect it's going to take some time to do it and it's going to be either very high or unrepairable, and I can't afford to cover the costs myself.

Any advice would be appreciated.