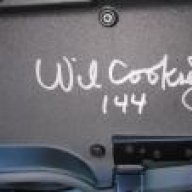 Joined

Jun 19, 2005
Messages

154
Location
Corvette

'08 Will Cooksey #144 Z06
Now that I have enjoyed a few "getting to know you" in the garage days with my new 07' Coupe, I am on the hunt for a few goodies.
Fortunatley I live near Ecklers and I stopped by recently to look at couple of items.
First of all, can any C6 owners tell my the "short cut" to properly mounting a rear tag bracket...DAH!!! :confused
I purchased two of them with the expectation of returning the one that may be less attractive. Neither of them seem to bolt up properly. One is the "painted" to match the car color ...plastic. The other is the chrome "Corvette" logo across the bottom type.
When I put either on the car, using only the supplied by "GM" top holes for tightning, they do not pull the bottom of the tag/bracket up snug. Actually by tightning, it causes the bottom to be drawn about a 1/4 inch or so away from laying flat against the car...looks terrible! Am I going about this the wrong way? Do I need to brake out the drill and put the apparent "missing" GM holes on the bottom of the the mounting area ....seems as if there should be holes on all four corners, not just the top...
Opinions please!