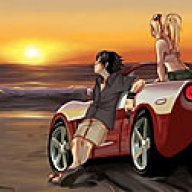 Site Administrator
Staff member
Administrator
Joined

Sep 16, 2000
Messages

13,913
Location
Corvette

1990 Corvette ZR-1
1965 Corvette Sting Ray roars back to life just in time for Old Town Motorfest
By RJ Wolcott | MLive.com
THOMAS TOWNSHIP, MI
— In the mid-1970s, Dale Walls parked his 1965 Chevrolet Corvette Sting Ray and didn't think about it for years afterward.
"There wasn't any room in the car for the kids to ride, didn't really need the car so it just kind of sat there," said Walls, a Thomas Township resident.
The sporty vehicle sat in his father's garage until the 1990's. That's when what started out as a few tweaks to the aging auto snowballed into a full-fledged restoration project, according to Walls.
Today, after years of work, Walls is bringing his classic car to the Old Town Motorfest, which runs noon until 4 p.m. Sunday, July 20, on the city's West Side.
Walls' cream-colored Sting Ray is powered by a 350-horsepower V8 beneath a long hood. He notes the car is all original save for its 1967 Corvette hubcaps, which Walls prefers. He still has the original hubcaps, along with the owner's manual and service information, prized possessions for any vintage car collector.
Walls said he first laid eyes on the Corvette in 1966. It was sitting in a driveway with a for sale sign in the window. Just a year old and with around 11,000 miles on the odometer, he paid $3,200 for it.
Today, the Corvette has just over 62,000 miles on it and a recent appraiser valued the car at $50,000, according to Walls.
Full Story:
1965 Corvette Sting Ray roars back to life just in time for Old Town Motorfest | MLive.com