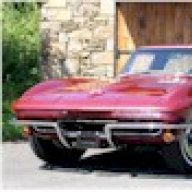 Joined

Apr 2, 2004
Messages

4,611
Location
Corvette

1965 Coupe L76 / 1978 L82
after three months of work on Sundays we finally got the body dropped back down on the replacement frame today!
there were a few things to do beforehand such as last minute installs of the vacuum cannister, a new lower speedo cable plus double checking pretty much every nut, bolt, and screw on the frame, suspension, etc to make sure we didn't miss anything. We also test fitted the new exhaust system than removed it again. We still need to get in a new heat riser valve or spacer for it.
Also, one thing we noticed today that we didn't notice previously was that two of the body mount locations on the body itself were completely rusted thru so we had to fabricate up a couple metal plates to attach to the bottom of the body at those locations.
Finally, we got the body dropped down and bolted up.
It's sure nice getting to this point in the project. With the body back down it won't be too much longer until we are done. I figure about another two working sundays and the car should be ready to go home. unfortunately, we can't work on it next Sunday as that's our clubs annual show and some of us are not available the following Sunday either but at least we are close and almost done. At this point it's mostly just reconnecting all the cables, electrial wires, and vacuum lines plus some other misc stuff not to mention reinstalling the fanblade and clutch, radiator, refilling all the fluids, reinstalling the hood, installing the exhaust, and repairing the steering column, etc
Here are today's pictures:
http://www.vetteclub.org/1980_Project/projectpics10.html