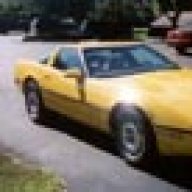 Joined

Jan 21, 2002
Messages

234
Location
Corvette

1986 "Speed Yellow" Coupe
Hello Vettesters, it's been a LONG time since I posted here!

I've replaced the heater core in my 86. 3rd once since I bought the car in 1992, so I know the procedure. After replacing the core, and before buttoning up the dash, I went to start the car and run it to make sure nothing was leaking. I plugged in all of the wiring harnesses under the passenger side dash, and reattached the negative terminal to the battery.

I get into the car, and smelled something electrical, and saw SMOKE coming from the blue plastic module which resides behind the "breadbox" portion of the dash. The smoke lasted just a second, so I *think* that's where it was coming from. Oh man, not good! Tried to start the car, it turns over, I get spark (tested for that), but it won't catch.

Fuel rails have pressure.

I just ordered a noid test kit to see if the injectors are getting a pulse, but I believe they are not.

SOOOO, what did I mess up? I took apart the module that I thought was smoking and didn't see anything burned or noticed anything out of the ordinary. I'm not sure what this particular module is.. I thought at first VATS, but if the ECM wasn't getting a valid signal from VATS, the car shouldn't even turn over, correct?

Obviously something burned up.. I suppose it could even be the ECM, but where would you start in diagnosing this? Thanks!