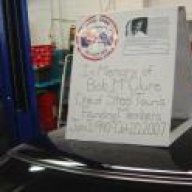 Joined

Mar 7, 2007
Messages

387
Location
Corvette

(2) Black '93s, purple '81, '69 vintage racer
Hi all,

Maybe someone can clue me in on this. Had my vette out today and noticed a vibration in the trans in 4th 5th and 6th gear and some difficulty shifting gears.

A little background info. on the car. 1993 with Z07 package, race extensively by the first owner, SCCA stock class. Car was rebuilt in 2004 after he destroyed the engine at Kentucky motor speedway. Everything was replaced from the engine to the brakes and more. He set this car up to race, I drive it when I can. Car runs like a bat out of Hell, however the vibration has me puzzled. I have driven other 6 spds which are much easier and have little or no vibration.

Clutch mis adjusted, out of balance pressure plate, missing teeth on gears?

Suggestions?