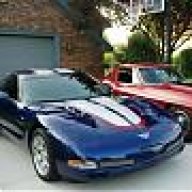 Joined

Jun 7, 2005
Messages

763
Location
Corvette

67 427 tripower,68 427 tripower,04 Z16, 62 340hp
Got everything ready for the big day, the 68 tripower has'nt been started for about 15 yrs. Had the halon from the 67 ready along w' the hose turned on. Several pops through the center carb, did'nt see alot of gas pumping into carb so tryed dumping a little bit by hand into main carb and still nothing but a pop or 2.
Only thing that I have'nt replaced is the fuel pump, and also wondering if distributor reinstall is slightly off. Did the #1 cyl. oncompression stroke, TDC on harmonic balancer, and pointed rotor towards cyl.#1 and dropped it in.

Thought I might get lucky this time ;help.. I'm not real good at diagnosing problems so any help would be appreciated.