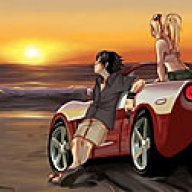 Site Administrator
Staff member
Administrator
Joined

Sep 16, 2000
Messages

13,898
Location
Corvette

1990 Corvette ZR-1
This article appeared over the ZR-1 Net by Dennis Duchman who owns a 1990 ZR-1. He did an excellent comparison of the two and he has granted me permission to post it here. He writes:
*********************
"Hopefully, my first
impression of the new "Billie Bob" Corvette may be of interest.
First, and most important, the Z06 is "fun to drive". A bit too
expensive
if you ask me, considering that decade old ZR-1s are now selling for half the
price and I which, I still believe are the "King of the Hill" of all Corvettes to date.
The other really nice thing I noticed is that the Z06 has a great exhaust note
under hard acceleration; probably better than any other recently
produced Corvette. With a great sound like this, I would not be too
fast to plunk down my hard earned cash for an after market exhaust.
Why mess with perfection?
Another pleasant surprise: the Z06 has decent ride quality. You can
still feel the irregularities, ruts and bumps in the road, but nothing
too
harsh at all. I like it and could see myself commuting to work or on a long trip in a Z06. The car is certainly better than the previous
generation cars and immensely better than any ZR-1 in the comfort department.
At first glance (and from seeing pics in all the mags, etc.), I felt the
old hartop and now this new Z06 were not as nice looking; certainly
lacking in sheer elegance and styling. The coupe and convertible
still get my vote for good looks, but the Z06 can tend to grow on
you once given a chance.
I test drove a yellow Z06 with black seats with red accents. Too
flashy for me, I'm afraid, but I must admit it is was kind of cool
getting so many "thumbs up" and stares of envy from the general
public. (As an aside, I never enjoyed any such notoriety in my
plain and ordinary looking "silver" ZR-1).
The instrument panel is very nice as is certainly true for all C5s
in general. I especially like the back lighting at night - truly
impressive in my opinion. The car's ergonomics are good too.
One thing that is a real winner is the driver's foot well. There
is plenty of room to relax your clutch foot deep down in there
to the left of the peddles. All past generation Corvettes should
be so nice.
Now for bad news on the ergonomics front. The six speed
shifter was very notchy and rather tempermental. I can live
with the skip shift feature carried over from the C4, but not for a seemingly hard to shift tranny after all these years
of Corvette refinement.
Based on this one flaw alone, in an otherwise world class
sports car, I would most likely pass on this year's model.
Hopefully, this was a fluke. The car I test drove had 1750 miles
on it and pre-owned by (in the words of the salesman) "a dot com
who is a dot com no more".
)
The handling of the car felt very solid and steering seemed very
responsive on the street. No complaints. Visibility out all of the
windows seemed pretty good too.
The only other gripes I can think of (and darn few of those from
this evaluator) are with the options on the car. There are a few
key options that IMO should be offered with the Z06 for safety
sake. Both the LTPWS and HUD are not available. What a
terrible shame. I know the design goal of the "billie bob" vette
is in keeping with a "stripper" mentality, but come on Dave Hill,
safety should NEVER be compromised in a Corvette.
I would gladly pay for replacement sensors in the tire stems if I
had a flat that needed a lethal injection of "instant fix a flat"
from the emergency flat tire kit in the trunk. It would be nice
of GM to provide a couple of these as "spares" with the car
to put a LTPWS in the H/T. I'm okay with no spare tire for
weight savings, but for safety sake give me the option for a
LTPWS in the Z06. Same for HUD, although I think in next
year's model that may be available. Hope this is more than
a rumor.
While on the subject of rumors, if GM matches HP specs
with where we left off with the 1995 ZR-1, in a 400 pound
lighter car, we should have a new king just around the
corner.
But what of the coupe and convertible? Are us more
conservative types that are still very big on "bragging
rights" going to be pleasantly surprised in 2002? I surely
hope so - not to the tune of 400+ horses, but certainly
the standard small block can do better than 350. I've
got it, how about 375 for the coupe and 405 for the
H/T with about an equal amount of torque for each.
I think more horsepower is very high on any Corvette
shoppers list. That would probably do it for me and I'd
be one of the first in line for the next model year."
Dennis D. '90 #269