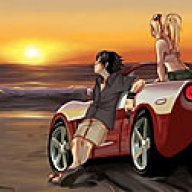 Site Administrator
Staff member
Administrator
Joined

Sep 16, 2000
Messages

13,869
Location
Corvette

1990 Corvette ZR-1
Looks like Dodge is upping the ante...
The Chrysler Group's flagship brash and unrestrained V-10-powered sports car is significantly more venomous for '08. The underlying look inside and out is familiar, but the big changes are underhood, where the V-10 engine has been pushed out to a super-sized 8.4-liters, for 600 hp and 560 lb-ft of torque and a 0-60 time of well under four seconds.

With help from racing specialists McLaren and Ricardo, engineers looked to raise the V-10's engine speed and improve its breathing. In doing so, the engine has improvements to the cooling system, plus new iron cylinder liners, cross-bolted main bearing caps, and powder-metal forged connecting rods. New CNC-shaped cylinder heads with larger valves and variable valve timing cap the new engine, improving response and efficiency, and a new two-piece intake manifold brings better airflow.

To match the engine improvements, the Viper gets a new clutch that's actually smaller in diameter, but its twin-disc design handles the torque with reduced pedal effort - a common complaint on the current model - while reducing rotating inertia. This is mated to a new Tremec six-speed manual with a wider range of ratios, improved synchros, and reduced shift-knob travel. In addition, the Dana rear axle gets a new speed-sensing, limited-slip differential for better traction.

Thanks to Brembo dual opposing-piston calipers front and back, the Viper can now brake from 60 mph to a stop in less than 100 feet, and go from a zero to 100 to zero in just over than twelve seconds.

Changes to the Viper's outward appearance are minor overall, but in front the '08's differences are most pronounced, with a hood that's been redesigned with a larger scoop for better induction and aggressive-looking louvers for improved cooling.

Previously, Vipers came in little more than basic-black inside, with a kit-car feel brought on by parts-bin components and non-matching surfaces. The current Viper was a big step up in civility, but for the '08 Viper makes another step ahead with more than a few interior choices. It will be available in five different interior colors with a choice of bezel finishes, along with other customization options.

Assembly will remain at the Chrysler Group's Conner Avenue assembly plant in Detroit , with first deliveries of the '08 planned for spring.
http://www.thecarconnection.com/Veh...onvertibles/2008_Dodge_Viper.S184.A11643.html