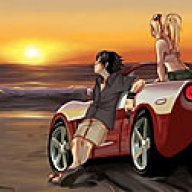 Site Administrator
Staff member
Administrator
Joined

Sep 16, 2000
Messages

13,591
Location
Corvette

1990 Corvette ZR-1
2015 Chevrolet Corvette Z06: Top 10 Reasons it Shatters the Supercar Category
by Karl Brauer
Contributor
Forbes.com
Even in the Golden Age of Automobiles we're currently enjoying it's rare for one car to get so many things so right. Yes, cars are better than ever, and not just in terms of performance or efficiency or safety or technology, but in terms of providing all of those things in a comprehensive package at a (relatively) low price. Yet as good as cars are these days, and despite the elevated expectations modern car buyers have as a result, the 2015 Chevrolet Corvette Z06 shatters even the high standards set for 21st century sports cars. The performance capabilities offered by the new Corvette Z06 are truly astonishing, though not completely unexpected. What sets the car apart is how these automotive superpowers are merged with a roster of luxury and high-tech features one might expect in exotic cars costing $200,000-plus dollars. At less than half that price the 2015 Corvette Z06 offers a performance pedigree unmatched in the modern automotive world. If you're an automotive enthusiast, welcome to the next level of street and track capabilities — available in a highly attainable package.
Between the all-new C7 Corvette introduced last year and the all-new Z06 version introduced this year Chevrolet has dramatically upped the Corvette's capabilities while also exploding consumer interest in America's sports car. User traffic to the Corvette pages at Kelley Blue Book has more than doubled in the the past two years. Let's look at the Top 10 reasons the 2015 Chevrolet Corvette Z06 is helping drive this interest while setting a new benchmark in sports car performance.
1. V8 Engine As Engineering Marvel:
The supercharged 6.2-liter V8 engine under the Corvette's louvered hood makes 650 horsepower and 650 pound-feet of torque. Those numbers combine with its 3,524-pound curb weight to deliver zero-to-60 in either 2.95 seconds or 3.2 seconds, depending on transmission choice. It also clears the quarter mile in either 10.95 or 11.2 seconds at 127 mph. As a rear-wheel drive car costing less than $100,000, those are amazing numbers.
Full Story:
2015 Chevrolet Corvette Z06: Top 10 Reasons it Shatters the Supercar Category - Forbes