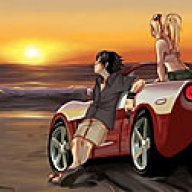 Site Administrator
Staff member
Administrator
Joined

Sep 16, 2000
Messages

13,756
Location
Corvette

1990 Corvette ZR-1
2015 Chevrolet Corvette Z06 - WR TV POV City Drive
By Bradley Iger
October 27, 2015
Winding Road Magazine
Although we had a chance to sample Chevy's boosted Corvette earlier this year, our drive was slightly hampered by uncooperative weather. But after months of anticipation, we finally got a proper stint behind the wheel of the new Corvette Z06 – and this time the tarmac is dry and the air is nice and cool.
As impressive of a sports car as the new C7 Stingray Corvette is, GM engineers managed to find ways to improve it, and the Z06 is the result of those efforts. Chevrolet has stated that there are no current plans for a ZR1 model for this iteration of the Corvette, so for those seeking the latest top spec version of the American performance icon, this is your Corvette. For now, anyway.
What's the idea behind the Corvette Z06?
While it's even more performance than the standard Stingray model, boasting more capability from nearly every metric used to measure sports cars, GM also sought to make the Z06 more accessible than top tier Corvette models of years past. Accordingly, the new Z06 can be had with an 8-speed automatic gearbox as well as a convertible roof. But we're here to do some driving – we'll take our Z06 in coupe form with the seven speed manual transmission, thank you very much.
While the nomenclature slots this model in with what have traditionally been Chevrolet's most track-honed Corvettes, it's probably more accurate to consider it as the C7 version of the previous generation ZR1. Whereas the C6 Z06 was powered by a naturally aspirated 7.0-liter V8 making just over 500 horsepower, the new Z06's drivetrain is a new supercharged and direct injected 6.2-liter mill, making this a significantly different animal both on and off track, and more akin to the 638 horsepower, supercharged ZR1.
As one would expect, it's not just the powertrain that gets upgraded over the standard C7 Corvette - the Z06 gets added grip in the form of Michelin Pilot Super Sport tires for the Z06 (Sport Cup 2 tires are equipped on models with the Z07 package), measuring P285/30ZR19 in front and 335/25ZR20 in the rear - an increase of width of 1.5 and 2.0 inches over the standard Stingray's setup, respectively.
Full Story:
Winding Road | Driven: 2015 Chevrolet Corvette Z06