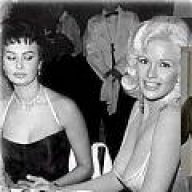 Joined

Jul 6, 2004
Messages

1,171
Location
Corvette

65 SB Roadster, 66 BB Coupe
...if i ever stop farting around with the blower kit on this car, i would actually get around to publishing my tech article on the installation....this question probably belongs in some engine forum somewhere but ANYWAY....
....conventional wisdom says that you need to adjust fuel pressure in accordance with boost...makes sense....i still need to dial-in the induction system but i've decided to cave in and go to a boost-referenced, pressure regulated fuel system....i priced out an new electric fuel pump and a boost referenced regulator and just laughed

....out of their freakin' minds:crazy
...so, by accident, i have sitting on the shelf an edelbrock mechanical fuel pump that was packaged incorrectly...the box is labeled correctly (a street pump), but when i hooked it up, it forced fuel right past the inlet o-rings and the car ran so rich that it made me and VNV cry (we're sensitive by nature but they clearly gave me the wrong pump)..i bought a holley fuel pressure regulator (4.5-9.0 psi, adjustable) but once i got it, decided that compensating for a mistake is the wrong thing to do and just reinstalled a known good fuel pump just to get it on the road...in retrospect, the right thing to do....
...my question involves boost-referenced regulators...after MUCH research on the internet, i found a description of how such things work....the regulator is essentially composed of two chambers, one above and one below a diaphragm which regulates fuel pressure based on spring pressure from the top...to reference boost, the top chamber is vented to the boost side of the carb and the fuel pressure is co-varied by the amount of pressure/vacuum.....on my holley regulator, the fuel pressure increases when the diaphragm is pressurized (tested on the bench).....so..
...after disassembly, i drilled a hole in the regulator's top chamber and added a brass hose barb fitting which will connect to the boost side and i should have a proper boost-referenced pressure regulator....what is difficult to understand is the marketing hype which says that the manufacturers increase fuel pressure 1:1 with boost and i'll admit that i don't know the ratio for my setup but, empirically, i can adjust the rate of rise/fall by simply crimping the boost/vacuum hose...this also assumes that my ideal fuel pressure range is within the holley's 4.5-9.0 psi range but i'm not running an F1 engine here and i have loads of time to make adjustments...my baseline will be to start out with the spring adjustment at it's lowest point (4.5 psi), drive the car and adjust the pressure up as needed....since the engine runs pretty well right now, my assumption is that i just need some fine tuning, not a major induction system overhaul
...any thoughts on my basic premise of how i'm referencing boost?
any other thoughts welcome, of course
...if this works, i saved over $300 but i'll need to buy 3AN braided hose in order to pass to the "VNV Underhood Inspection" which requires both form AND function!!!