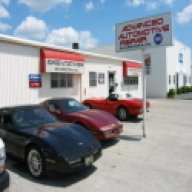 Joined

Jan 8, 2004
Messages

381
Location
Corvette

'96 coupe (Torch Red), '85 4+3 coupe (flat black)
Hey guys...
I've got a 66 convertible in the shop and I've got a question for the midyear experts.
On the doors and in the doorjambs there are holes for what I assume to be door guides similar to the guides on C4s. There are three holes on the door, one of which is also for the weatherstrip retainer and two holes in the doorjamb. Are these unique to convertible, or are they also on coupes? I don't recall seeing them on the 63 SWC I had in here a couple of weeks ago, so I'm to assume they're for 66-67? Can anybody help?
Thanks to any and all who reply.