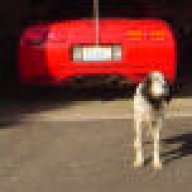 Joined

May 19, 2003
Messages

3,233
Location
Corvette

1968 1997
spent the weekend working on my 68 Vert replaced and aimed the headlights. Put the TT2's from the 76 on; Put in new gabriel shocks I bought on Ebay all 4 for less the the price one KYB since I plan on putting in the VB&P suspension in the future I couldn't see spending money on good ones.
Played around with the shifter, it sticks in reverse so I sprayed it real good with PB Blaster and tried to adjust it. It doesn't stick as bad as before but is not perfect. If anyone knows the procedure for adjusting the shifter please post it.
and once again it is not going to be a real issue since the TKO from the 76 will find a new home in here.
Now for the interesting part my 68 is a 4-speed and has a removable trans crossmember so the question is did it start life as a auto or did all 68's have removable crossmembers?
The rear body mounts are aluminum and not rubber, was this done because a PO could not find body mounts or was it done to stiffen it up for auto-cross or club racing?
The origional color was white and the rear gear is either a 3:70 or 4:11
As my plan is to drive it locally for a year or two as is about the only thing left to do so I can drive it is to get the windshield wipers working and I don't really need them as I don't plan on driving this in the rain, I have a C5 for that.