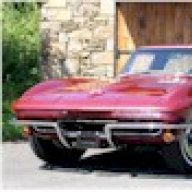 Joined

Apr 2, 2004
Messages

4,611
Location
Corvette

1965 Coupe L76 / 1978 L82
feels good to have a great progress day!!
this was where we left the chassis last week:
and this is where we ended up today after about 5 1/2 hours of work:
We got all the suspension and the motor / trans off the old frame finally. Now it's just a matter of getting in all the new parts and cleaning up & rebuilding the old parts, and than getting everything reassembled onto the replacement frame.
For the replacement frame we only have another coat or two of paint to put on and the frame will be ready to start accepting the parts.
here is the link to all of todays pictures as we were stripping the old chassis:
http://www.vetteclub.org/1980_Project/projectpics5.html
oh, for those that wanted to see more of the cracks in the old frame, take a good look at the last group of pics at the link above, there are a couple good cracks for you to enjoy! One big pothole or speedbump and I think the passengerside frame rail was about to separate from the front crossmember!
We also found more evidence of Bubba working on this car. Look at the rearleafspring mounting bolts pics. There are supposes to be three bolts holding the rear leafspring to the differential and he could only get 2 of them in so he put in the two he could and than to make sure they stayed he mushroomed the end of the bolts after putting on the nuts and tack WELDED it so they wouldn't go anywhere!! :eek
We had to use a hacksaw to get the bolts out. What an idiot!!
we won't even talk about the fact that a few weeks ago we discovered that Bubba decided that the drivers side halfshaft needed a new u-joint and since he didn't have a long enough extention to undo the u-joint to get it off he CUT A HOLE in the fiberglass in the battery compartment behind the drivers seat to get easier access to the u-joint that re-fiberglassed over the hole afterwards. :eek