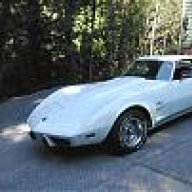 Joined

Jul 31, 2004
Messages

84
Location
Corvette

2003 50th Anniversary Coupe
My tach isn't working and Ive been told to check it for 12 volts. There are three wires connected to the rear of the tach, black, pink, and brown. The wiring diagram shows the black wire to be ground. The pink wire is a constant 12-volt supply and the brown wire goes to a filter on the manifold and from the filter to the "tach" location on the distributor.
With the ignition turned to on and the engine not running I checked the wires. The black is a good ground. The pink is 12 volts and the brown is also 12 volts. Should there be 12 volts at the brown wire? I can't find anything in the wiring diagram showing the voltage of the brown wire and/or when it should have that voltage.
Can anyone help me decipher this problem?
Thanks in advance.