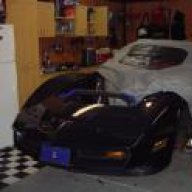 Joined

Jul 18, 2003
Messages

97
Location
Corvette

1981 Dark Blue Coup
Ok, I need a little help. One problem I created the other I inherited.
Engine and transmission is installed. I called the local drive shaft shop and asked them how I should measure . They told me to have the slip joint out 1" from the seal and then measure from center of u-joint cap from slip yoke to rear gear yoke. I measured 26" and that is exactly what they modified the driveshaft to.....Now when I installed the drive shaft (the measurement should of been 25 1/2 inches, the slip yoke has about 3/8 of an inch before making contact with the tail housing......Will the slip yoke move that much?
Issue number 2. Installed a bowtie crossmember and 700R4 transmisson (not from bowtie). Both venders shipped trans mounts and here is where the problem lies. The trans mount was too short, allowing the tail housing to "sit" on the top of the crossmember. I installed spacers and now the tail housing is about 3/8 above the crossmember.....will the transmission move that much?
Any help is appreciated