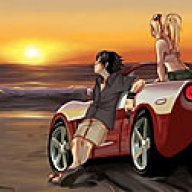 Site Administrator
Staff member
Administrator
Joined

Sep 16, 2000
Messages

13,790
Location
Corvette

1990 Corvette ZR-1
A feat of American engineering
01:00 AM EDT on Sunday, September 14, 2008
By Jason H. Harper
Bloomberg News
Can Americans still build a phenomenal car? One can forgive the question, since the Japanese have run away with hybrids and the Germans and Italians rule the sports-car world.
One of the brighter spots in the U.S. auto scene is the Chevrolet Corvette ZR1 — a relatively inexpensive car that tangos with uber-expensive exotics.
After a $15.5 billion second-quarter loss, General Motors Corp. is in incredible trouble, and the release of the fastest-ever Corvette will hardly turn things around. But it would be a mistake to write off a truly fearless feat of engineering. For a relative bargain of $105,000, the ZR1 tops out at 205 miles per hour.
This is not the kind of ride you'll find in overly full GM sales lots featuring "employee pricing." The ZR1 coupe is akin to an Italian exotic. Chevy will make only seven a day, 2,000 a year, aimed at the sports-car cognoscenti.
Take, for instance, the Brembo carbon-ceramic brake rotors, with exceptional stopping power and zero fade even after repeated stomping. You'll find similar brakes on Ferraris and Lamborghinis, often as a $15,000 or so option. On the ZR1, they're standard.
I got a first crack at the 638-horsepower ZR1 at GM's proving grounds in Milford, Mich. GM has its own 3-mile track, affectionately nicknamed the "Lutzring" after GM Vice Chairman Bob Lutz. Arranged like a racetrack of Greatest Hits, it's full of technically difficult turns, altitude changes and extremely blind crests: A prime place to wring out the Vette.
Even on a tough and unfamiliar racetrack, I feel like Superman. Neither speeding bullets nor powerful locomotives can keep up with me. I'm not even fazed by those blind crests: A light brake keeps the front end securely down as I sweep over the top, and a squeeze on the throttle instantaneously puts me back over 100 mph, even in third gear. Perhaps it's a good thing there's no ample straightaway to try out that 205 mph top speed.
Let's go back to that horsepower: 638. That's 133 more than the very rowdy Corvette Z06, and it comes from a new supercharged 6.2-liter V-8, with 604 pound-feet of torque. The engineers are very proud of that engine, and they will talk about it incessantly if you let them. It mostly sounds like Klingon to me, yet the proof is in the pudding: The 3,324-pound ZR1 makes 0 to 60 mph in a rush of 3.4 seconds.
Maybe better, it gets you to 100 mph in 7 seconds and the quarter mile in 11.3. I experience this repeatedly, with 100 mph arriving almost magically. It's only on my final lap that I take note of my speeds and realize how fast I'm going. And I never even put the traction controls in "competition" mode.
I'd expected this Corvette to be a mean, lean car on the track. The real surprise is that it's utterly docile on the road, easier to drive than the Z06. You could motor to work every day in this car.
The clutch is easy to use, and the six-speed manual (the only transmission available) is tight and fun, though third gear is occasionally hard to find. One of the real wonders is the superb suspension, which uses automatically adjusting magnetic shocks. In "comfort" mode, the only thing to suffer will be your chiropractor's bottom line.
The ZR1 shows class by not abrasively announcing itself as a special Vette. The badge on the rear is subtle, and the only obvious clues are the naked carbon-fiber roof, side sills and front splitter. (All of which save lots of weight and is phenomenally costly to produce.) There's also a clear screen in the hood that allows you to see the top of the engine, like a picture window into the supercar's soul.
Chevy also doesn't nickel and dime you with options. There's a $10,000 package that includes niceties such as a leather interior (which looks great), a Bose stereo system and a GPS navigation system. The only other option is $2,000 chrome wheels.
The ZR1 set a record for the fastest lap in a production car around Germany's legendary Nurburgring, making 7:26.4 — an arcane figure that makes aficionados salivate. The driver was Corvette engineer Jim Mero, who's also turned some 10,000 laps at Milford.
I get a ride-along with him in the ZR1, which is like Tiger Woods showing you the back nine. Mero drives with the traction control off and I see what the car is truly capable of. Let's just say the laws of nature almost cease to exist and Newton gets thrown on his head, proving just who's Superman and who's not.
Part of me wants to make apologies for GM: If they put the same energy into hybrids and alternative fuels as they did into developing this car, they would be in better shape right now. (GM has, in fact, now launched headlong in those new directions.)
Still, no apologies should be made for the ZR1. It's a feat of American engineering, the result of genuine passion. Nobody should have to make an excuse for that.
The 2009 Chevy Corvette ZR1
Engine:
Supercharged 6.2-liter V-8 with 638 horsepower and 604
pound-feet of torque.
Transmission:
Six-speed manual.
Speed:
0 to 60 mph in 3.4 seconds.
Gas mileage per gallon:
14 city; 20 highway.
Price as tested:
$117,000.
Best features:
Its dual nature, performing spectacularly on both
the road and the track.
Worst feature:
You'll never actually test that top speed.

Target buyer:
The performance fiend who wants a true American
supercar.