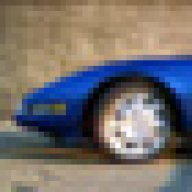 Joined

Nov 15, 2002
Messages

585
Location
Corvette

1993 Medium Quasar Blue Metallic Coupe
A few weeks ago, I bought one of Eckler's replacement spoilers just to replace the worn out looking one on my Vette. Straight outta the package, I noticed the integrity of the spoiler looked and felt thinner and stiffer than it should have.
Two days later, the thing was missing chunks outta it. Two days later!!!
I did not ram it up against a high parking buffer, nor did I whang it off of some pothole bump. Nope, simply backing outta my own driveway. I expect a bit of scrubbing cause there's a small ridge where the concrete has separated and I'm going what?... 2-3 miles per hr. and the thing snaps.
So I write Eckler's a nice F.Y.I. type of letter just to let 'em know that the spoilers they're selling are not up to par. Here's the reply I got back from them.
*[We have had some problems with the quality of the spoilers and are in the process of having the Manufacturer upgrade the quality. We will be glad to replace the item for you as soon as parts become available. I will keep your message on file and will contact you as soon as we have a more durable product.
Thank you,
Edward Gault
Corvette Product Technical Services]*
Wow!!! Not only a fast reply back, but an offer to replace the thing. 'Course it'd be great if they just stopped selling what they have on hand until the better spoilers become available.At $49 +shpg&hndlng, it's a costly item.