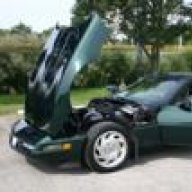 Joined

Oct 8, 2002
Messages

1,610
Location
Corvette

96 LT4 Polo Green/Light Beige Interior
Hi, Everybody.
I think I may need a new clutch in my '96. Here are some of the things I am experiencing; I was wondering if those in the know could weigh-in with your advice. With the symptoms I have below, does it sound like it's time for a new clutch or is something else amiss?
When I press clutch in, I will hear a "click" come from underneath the car, sounds like it's coming from just ahead of the clutch pedal or bell-housing area. Sometimes its a single "click", other times, I hear three distinct "clicks".


It can be hard to get the car in reverse at times. It's intermittent. Occasionally, it will go into reverse and there will be a loud "clunk". Most of the time, it goes into reverse with no problems.


The car shifts fine and does not slip gears


I have 53,000 miles on the car, it is the original ZF OEM unit


I know the GM OEM dual mass flywheel has been discontinued, any recommendations?
Any advice would be appreciated!
B17Crew