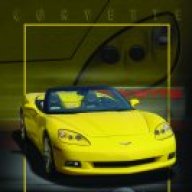 Joined

May 1, 2002
Messages

609
Location
Corvette

'95 LT1 Coupe, Comp Yell; C6 Roadster, Vel Yell
WNRO: Effects Could Be Worse Than Y2K
Please follow me on this one. I am not a weirdo trying to cause panic among my fellow C6 owners, and others.
Above is very old info from 1999 (remember Y2K scare) about WNRO GPS updates. WHO KNEW? I, and several others with C6 Corvettes, have fairly recently lost our GPS clocks after disconnecting and reconnecting our batteries. GM techs are throwing their hands up! You will find a few posts here and on other Vette sites to support this.
While digging into this problem, today I received a notice from TomTom indicating that my portable GPS may be affected by some "WNRO" update and to download their "fix". They said to understand what is going on, go to the site I quoted above to get more info. I know it is a very long shot, but I wonder if WNRO has in some way affected owners of C6 OEM GPS clocks, maybe some other vehicles to with a similar GPS head unit.
Does anyone on this site have experience with Air Force GPS, specifically WNRO updates? I am curious because the site above indicates the following:
1. WNRO stands for GPS Week Number Rollover
2. Air Force does a refresh to their GPS clock signals (affecting some military and civilian GPs's) every 1,024 weeks.
3. The AF first placed GPS on-line (using their AF-owned satellite system) on 1/6/80. Yes, all of our GPS's, as far as I can tell, use AF-owned GPS satellites.
4. The first 1,024 week update after 1-6-80 "should" have occurred on 8-21-99.
6. The second 1,024 update "should" have occurred on 9-6-18. (Please check my math; it is early in the morning).
Yes, I have tons of questions as to why the public is not notified as to which GPS's may be affected by these changes but anyway.......
- A few days ago I posted here that I disconnected and reconnected my '07 C6 battery and immediately lost my digital clock, which ALL run off of the GPS signal. Yes, you can lose the clock but your GPS system will still work, maybe not perfectly, from what I have researched. My GPS works fine however; just no clock.
- My theory is that due to a WNRO update on 9-6-18, this affected my my old GPS clock, BUT NOT UNTIL I LOST THE UP/DOWNLINK WITH WHATEVER GPS SATELLITES MY SYSTEM HERE IN OHIO USES, when I disconnected the battery for the first time following this last update.
Comments from any of you techies out there?