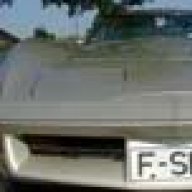 Joined

Jul 28, 2003
Messages

1,765
Location
Corvette

1982 Collector Edition
After a little weekend drive to the boonies ("Pennsyltucky", ie. Grand Canyon of PA), after a while on the highway, doing 70-75, the oil temp would get a little warm, slightly under the first hashmark on the oil temp gauge in a 82.
Didnt seem to bother anything other then when i accelerated the car seemed to work harder to get up and go. With what sounded like a groaning noise.
Now i didnt pick up any squirrels or something related, but it just puzzles me. :confused
Once i slowed down a bit (65ish for 20 minutes), the oil would calm down again and acceleration was normal.
Anyone got any idea ? ;help
(The oil warming up might not even be related)
All in all a great drive with the old iron. 236 miles one way. Going was rough on Friday as it rained cats and dogs and doing highway turns at 75ish wasnt fun. The car doesnt feel solid and i slowed down a bit. When i got up to 75, she felt a bit light in the front, especially with the wind and rain, passing trucks.
She did purr all the way with no issues though..

On the way back, it was even better, weather sunny and warm. A good drive home. No more lifting and doing 75 around the bendies was fun again. Once i get the pics, i'll post some of the mud splatter on the car (the last part was 2 miles up a hill/farmroad onto a farm with loads of sliding).
hnoes
Thanks for any answers.

-Stefan