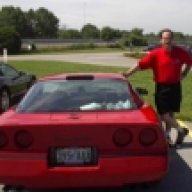 Joined

Oct 30, 2001
Messages

2,273
Location
Corvette

1986 Bright Red Coupe
Ok. Took my Vette to the shop for what I thought would be the last couple of repairs (clutch, parking brake). Asked the mechanic to look for the small coolant leak he'd seen on initial inspection. So I stop by today to see how things are going... he essentially tells me the following need fixing/replacing:
1. Clutch fork and pivot (worn unevenly)
2. Flywheel needs remachining and a new ring gear, so...
3. The starter needs replacing because its gear got worn down by the ring gear
4. Clutch slave cylinder is shot (maybe why the clutch is so stiff?)
5. Parking brake has totally rusted together - needs almost everything except for the calipers, INCLUDING the rear cables
6. Coolant leak is the water pump, as suspected, but ALSO four of the six or so freeze plugs. What are these things, and why would they leak?
7. A.I.R. tubing is crimped; minor but another repair. Is the air injection critical? I've seen kits that remove the pump completely.
8. Vent hose from overdrive is crimped and melted
9. Overdrive is leaking mildly (won't fix now; not enough to worry about)
10. Rear main seal is on its way out, so will replace while transmission out
11. Catalytic will need replacing soon (but not now)
12. Oil pan gasket is leaking in back (will replace soon, not now)
13. Wiring from the transmission needs new connectors - oil and another older bad repair have taken the insulation down to bare wires in spots.
I was hoping to take in a track day next Friday (for FREE); it appears it will not happen because I most likely won't even get the car back until then (waiting for parts) let alone break in the new clutch.


ad