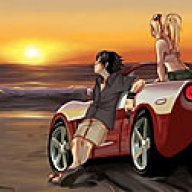 Site Administrator
Staff member
Administrator
Joined

Sep 16, 2000
Messages

13,894
Location
Corvette

1990 Corvette ZR-1
Making the case for the mid-engine Corvette
Price it at around $120K, and then suck the doors off everybody.
By Bob Lutz
Road and Track Magazine
January 15, 2015
I first saw rough plans for a mid-engine Corvette around 2003. That's when we were starting to think seriously about a replacement for the C6. GM's head of engineering, Jim Queen, came to see me and said,
"The next one's got to be mid-engine."
Tadge Juechter had a PowerPoint presentation demonstrating, very credibly, that the C6 ZR1 was at the limit of usable rear-wheel-drive performance. The problemwas really the front-mid-engine layout—we couldn't get the engine low enough and far back enough for proper weight transfer to the rear wheels under acceleration.
I didn't want to move out of our price class, but Tadge explained that while the transmission would cost more, the list price would increase by no more than $5000. Imagine an American-built car with the proportions of a Lamborghini at that price point …that's pretty appealing.
Full Story:
Making the case for the mid-engine Corvette