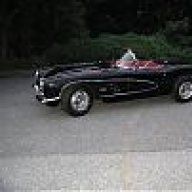 Joined

Dec 24, 2003
Messages

389
Location
Corvette

'59 Blk/Red, '12 Crystal Red GS
Does anyone out there have a detailed, clear picture of how the carb linkage for the 270 HP ('59) should look ? I'm having some (more) trouble with these carbs.

First, I've noticed that I've got at least one leak on the pass side of the rear carb. Can't really tell whre it's coming from but's it's i about the middle of the carb and toward the bottom. COuld this be caused by the floats being set to high ? There may also be a small leak on the driver side front of the the same carb.

Second, I don't think I'm getting WOT with the rear (primary) carb, either. That's why I'd like to see somebody's picture of a working set of 2 x 4's.

Third, if I decide to throw in the towel on getting these things to run right, who's a good guy to send them to for a rebuild ? How much can I expect to spend ?

Thanks for any and all help,

Bernie O.