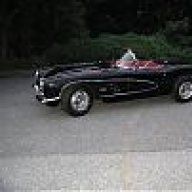 Joined

Dec 24, 2003
Messages

388
Location
Corvette

'59 Blk/Red, '12 Crystal Red GS
Hi All,

I just KNOW this question or topic has been covered before; I may have even contributed to the thread, but I can't find it now and am having a problem:

The left (driver) side tail / brake light is behaving erratically on my '59. Took it over to the inspection lanes to get it inspected/registered and it failed for a brake light not working. I quick ran over to a friend's repair shop to see if he had a bulb for me. Got there and we find that it works sometimes and doesn't work other times. I know the turn signal is tied into this problem some way or another, but I cant get it to work no matter how much I make sure the t/s lever is centered. My friend thinks it's probably a ground wire that connects to the bumper is the problem.

I take the car home, have my wife come out and fool with the t/s lever somemore and it works fine. I run it back over to inspection lanes and it passes with no problem.

Later that night I'm coming home in the dark (after leaving Barry K's house) and it's not working. Now, with headlights on, as soon as I hit the break the left side light goes completely out. With headlights off it seems to be OK, as long as the t/s lever is centered.

SO........ is this a ground wire problem or a t/s centering problem or some nasty combination of both ??

Any comments or ideas from people who have dealt with this problem would be greatly appreciated.

Thanks,

Bernie O.