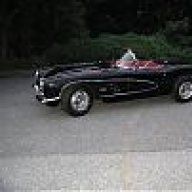 Joined

Dec 24, 2003
Messages

384
Location
Corvette

'59 Blk/Red, '12 Crystal Red GS
I've been fighting the whole tail light / no tail light issue with this car for years. every time I think I have it fixed (new bulbs, new wiring, etc...) it rears it's ugly head again.

I finally (actually a couple of months ago) bought a new Turn Signal Cancelling Cam and installed it a few days ago. Tested it all out before re-installing the steering wheel and everything appeared to work well. the new cam was quite a bit "stiffer" than the one I removed, but, other than that I could find nothing wrong with the old one.

First thing I did wrong was install the steering wheel one tooth off and on the test drive I found that the left turn signal would not stay engaged unless yoiu held it there with your hand. Took the steering wheel back off, took the new cam out and removed the long wire spring (not the two little ones) and put some white lithium grease in between the two washers that kind of hold it in place. Had already put the grease in other contact points. Re-installed the cam, tested again (befoer putting steering wheel on) and everything seems to be fine. Re-install the steering wheel (correctly this time) and take it for another test ride.

Now the left turn signal works as it should, but the right one does not return to center after making a turn. THis is a little dangerous as I've already had someone pull out in front of me because they thought I was making a turn when I wasn't.

Any thoughts would be appreciated,

Bernie O.