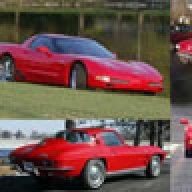 Joined

Oct 11, 2003
Messages

1,895
Location
Corvette

15 Z06, 01 Vert, 63 SWC & 60 ALL RED
Here ya go.....
now this is where it starts to get ugly! Notice ALL the front body work that has been done to this. It seems that the front center section between the headlights and through the center emblem location was repaired by placing another piece on top of the original. seems that in this area it is about double the thickness it should be. Which would explain WHY the front of the hood always rubbed the front portion of the hood surround.
looks like what ever happened to the front also caused some of the panels to seperate. Bubba tried to fix it by shoving bondo into the seam for an adhesive....it didn't work as there is panel seperation. All that bondo needs to be gotten out of there for the panels to ever close up again! Thank you bubba!!!
a lot of repair work on the bottom of the driver side fender underneath. On top it doesn't look so bad, but underneath you can see all the work done to try and patch it up.
ok this is the real nasty one of the bunch, top of the passenger fender. the seam goes all the way across and of course it is cracked the whole way, nice job bubba!
back of front center section....you can see all the work that was done to try and get that to look normal again....
back end looked real good...no problems here....except these wheel wells need to be tubbed about 1.5 inches or so, just enough to make the inside of the wheel well flush with the frame.
shifter linkage must have been rubbing its way RAW through the body, bubba put a poor excuse for a patch here too!
rest of the interior looks real good
Here is what I think I will get as new pieces....looks to be around $2300 or so
comments???????