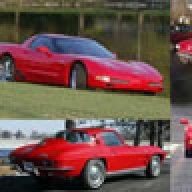 Joined

Oct 11, 2003
Messages

1,895
Location
Corvette

15 Z06, 01 Vert, 63 SWC & 60 ALL RED
Took my frame over to the body shop last week whlie I was off. They mounted the body to the frame so that they could use it as a jig for the new body parts that have to be assembled to the body, specifically the hood surround.
They triple wrapped the motor in plastic and also wrapped the frame before they put the body on. They are going to cover the wheels inside and out so that when they get the body all together and glued, they will be able to sand the heck out of things.
We plan to paint the under body the same color as the car but Harry will add some satin to the paint. The color of the car will be C5 Torch Red with White coves.
I talked to Al Knoch interiors today and they will be doing the interior pieces as well as the dash pad (will be in leather). I plan on doing a C5 Z06 Mod Red (black and red) interior, the same as my '03 Z06.
Below are the latest photos, the big thing that I can see right now is that I might want to get diffrerent coil overs for the rear of the car and lower it another ince. Right now I am down all the way on the shock mounts, so the only thing that I can do to change the ride height is to purchase some shorter coil over shocks (ugh, it is just money!). The front is lowered all the way down and may be too low. We might raise it one inch, but no matter what the car has a real mean attitude to it!
Here are the photos, hopefully I will get a chance next week to get some more. Work is going crazy right now and even going over to the body shop is difficult right now (only 1 mile away).
stay tuned!!!
Herb